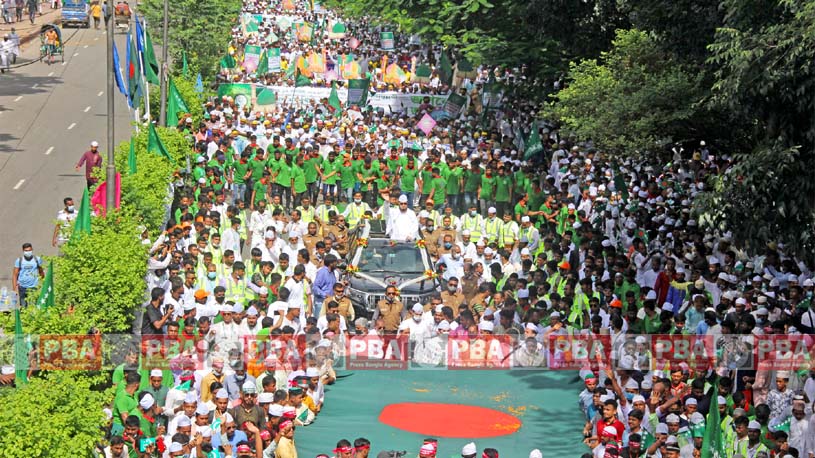 PBA,Dhaka: With the participation of thousands of the lovers of holy Prophet (PBUH), a massive 'Eid-e-Miladunnabi (PBUH) Celebration Peace Rally' and 'International Peace Conference' led by Sayeed Saifuddin Ahmed Al Hasani Maizbhandari at Dhaka in Bangladesh.
Anjuman-e-Rahmania Mainia Maizbhandaria organised this festive rally decorated with colorful banners, festoons, flags carrying the message of holy Quran, Sunnah, peace and harmony.
Later 'International Peace Conference' held at Bangladesh Engineers Institution. The peace conference was presided over by Sayeed Saifuddin Ahmed Al Hasani, president of 'Parliament of World Sufis'.
In his speech he said that holy arrival of beloved Prophet (PBUH) has immense significance to our lives. He has come with the message of global peace, interfaith harmony, equality and humanity. If our holy Prophet (PBUH) wouldn't step on the earth, the whole universe would submerge into the darkness. He has established the rights of people in such an era, when there were no dignity to women and general people, conflicts everywhere. With the supreme ideology of holy Prophet (PBUH), he turned a brutal civilization into a humanitarian civilization.
"Today we are seeing there are violation of human rights, communal conflicts, extremism all over the world. To establish global peace and a world of peaceful coexistence, we must turn to holy Prophet (PBUH)," Sayeed Saifuddin Ahmed added.
Sayeed Saifuddin Ahmed Al Hasani also has expressed his deep concern on the recent violent situation in many parts of Bangladesh which is threatening to communal harmony. In a message, he urged all to resolve the crisis with patience, keeping respect to law.
Sayeed Saifuddin Ahmed Al Hasani said that insult of holy Quran is undoubtedly a heinous crime. People who are behind this must be punished after proper investigation. Besides, following this unexpected incident, attacks on many Mandirs is also condemnable. Islam never allows this type of activities. Our beloved holy Prophet (PBUH) ensured the rights, safety of different religions through the 'Charter of Medina'. Over the years Sufi saints have been carrying the same ideology which has established a strong foundation of communal harmony particularly in this sub-continent. Showing respect to other religions, expresses the greatness of one's own religion. Authority should look into the matter that is there any engagement of some external groups who want to hamper the stability of country intentionally.
Sayed Saifuddin Ahmed urged all religious, social, political leaders to take responsibility in such crisis moment to raise public awareness for maintaining religious harmony. He thanked Hon'ble President Abdul Hamid and Prime Minister Sheikh Hasina for their recognition of celebrating holy Eid-e-Miladunnabi (PBUH) with proper state dignity.
Earlier honorable state minister of the ministry of religion, Farhadul Khan MP inaugurated the peace conference through video conference. He ensured that those who have attacked on minority will be taken under legal steps.
As the chief guest honorable Information Minister Dr. Hasan Mahmud said that holy Eid-e-Miladunnabi (PBUH) is an integral part of Islamic culture. A follower of Islam can never do any harm to others. In this sacred land of Awliya Allah, Sufi saints there is no room for terrorism. People of our country are liberal and they will not tolerate any violence in the name of religion.
Honorable Minister of Liberation War Affairs, AKM Mozammel Haque said that Holy Prophet's (PBUH) vision is love-affection to the Creator and his creation. He has shown us the way of salvation in this earth and hereafter.
Major General Syed Muhammad Ibrahim, chairman of Bangladesh Kallayan Party expressed his gratitude to all Muslim ummah on this great occasion.
Ruhul Amin Ruhul MP, minister counselor of Indonesian Embassy in Bangladesh, Hedayat Acheh, Shahzada Sayeed Mehbub Mainuddin Al Hasani, Shahzada Sayeed Hasnain Mainuddin Al Hasani, general secretary of Anjuman-e-Rahmania Mainia Maizbhandaria, Alhaz Alamgir Khan Maizbhandari, Mufti Baaki Billah Al Azhari,
Prominent Sufi leaders, Islamic scholars, administrative officers, politicians, journalists, intellectuals were guests and took part in discussion.
At the end, Sayeed Saifuddin Ahmed Al Hasani prayed for the impunity of the oppressed humanity around the world, for peace, prosperity, unity and tranquillity of the Muslim ummah and Bangladesh.